Welcome to Sew Suite Studio! We are a boutique sewing, quilting and embroidery store serving the
Charleston, SC
area. We specialize in Brother, Baby Lock, HandiQuilter and JUKI machine sales and service and offer a range of classes and events catered towards fostering a love of sewing, quilting and embroidery in every person we meet. For a full listing of upcoming classes and events, check out our
Calendar
. To learn more about what we are all about, please see
our
Mission Statement.


Meet the Team
Becky Robinson, Owner
Since she was a child, Becky's favorite hobby has been sewing. She is a CPA by trade, but after seeing the variety of embroidery software available on the market, she had an "aha" moment and decided to combine her love for creative sewing with her computer & software training experience to provide sales, education, and support for digitizing & quilting software products to the home embroidery market. When she is not dreaming up more creative ideas than one woman can handle, she enjoys collecting antiques and up-cycling vintage items such as her 1976 Argosy camper.

Bari Robinson, Sew Suite Manager & Social Media, Certified Technician

A graduate of Anderson University, Bari is an avid history lover with a passion for all things creative. Although she wasn't interested in sewing as a child, she had an awakening as a sophomore in college when she started working part time at Sew Suite running the embroidery business. Surrounded by all the fun projects and opportunities that sewing and embroidery offer, she was hooked! Learning and teaching are two of her favorite things to do, so you'll find her teaching many of the classes hosted Sew Suite Studio. In her free time she enjoys reading about European history, shopping for fabric, and spending time outside.

Rebekah Graveline, Sew Suite Manager, Certified Technician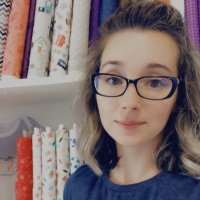 Bekah has been sewing since she was a child. Taught by her master seamstress mother, she specializes in sewing with out a pattern and making patterns up as she goes. Her background in big box retail has been an essential asset to Sew Suite Studio since joining us in 2018. The beauty of our store is credited to Bekah's amazing eye for merchandising. When not at work she enjoys spending time with her husband, Mark, and her almost-five-year-old daughter. She loves Chick-Fil-A, tending her vegetable garden, and renovating her home. She also loves ALL things KIMBERBELL!

Linda Parillo, Sew Suite Team Member
Bio coming soon!

Chip, Mascot

Chip is our lively store mascot! He has a big personality and he's not afraid to show it! His favorite pastimes are hiding his chewy toys in the scrap fabric bins, stealing Bekah's yarn balls, and cuddling with anyone who will let him!